Scaffolding erector training (level 1&2) is all about safely erecting and dismantling scaffold of various types. The training is fully practicals with international certification. At the end trainees will be able to work as competent professional scaffolders with better understanding of site safety.
The training comes with an international scaffolding level 1&2 certificate plus additional OSHA standard certificate in scaffold safety. In additon, the training can be delivered at your site (both onshore and offshore) or at our training facility with group discount for up to 4 persons.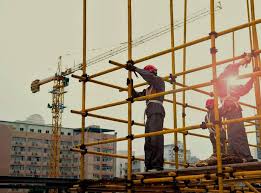 Training Course Content
Understanding Legislations and codes of practice on scaffolding
Identification and safe use of various scaffolding components
Personal protective equipment (PPE) requirements
scaffold planning and site preparation
Interpretation of simple scaffold drawings
Use of fall proctection such as harness belt
Safe ladder access
Erect and dismantle scaffold
Assessment
COURSE DURATION
4 DAYS
COURSE FEE
NGN80,000 (Covers training manuals, training and certificates)
GROUP DISCOUNT
We give discount for corporate organizations that register upto 4 delegates. You can also enjoy the discount when you register as a group. Please contact us for details and a free quote.
VENUE?
• We provide the best accredited scaffolding training in Lagos State: 1st Floor Pontaville House, 1 Shasha Road, beside De Santos Hotel, Dopemu, Lagos Mainland. Phone: 08162430555 | Suite C191, behind Providus Bank, Road 2, Ikota Shopping Complex, VGC Lekki, Lagos Island. Phone 08169260852
• Port Harcourt: 17 Trans-Woji Slaughter Road, beside NNPC Filling Station, Woji, Port Harcourt, Rivers State. Phone: 07067658743
• Abuja: Suite C14, Nkwegu Plaza, A17 Old Federal Secretariat Road, Area 3 Junction, Durumi, Abuja FCT. Phone: 09068901163
We also conduct hse training in Ibadan, Asaba, Enugu, Awka, Adamawa, Yenagoa, Kaduna, Warri, Owerri and other states in Nigeria. Our trainings can also be conducted at your company facility and tailored to suit your needs. click here, for details and a free quote.
Find an hse training center nearest to you. Or you train online.
> Click here to send enquiries <
WHY TRAIN WITH US?
HSE Training Institute is the foremost safety and oilfield training provider in Nigeria. We have a proven track record delivering excellent courses to individuals and corporate organizations. The structure of our courses and materials are based on international standards and accreditations in safety and oilfield trainings. We constantly receive feedback from employers of labour hence we focus our trainings on the most practical aspects that are relevant to the industry.
In addition, we offer job search assistance and free career counselling after training.
OUR TRAINING FACILITY
HSE Training Institute provides training in a comfortable environment and our courses are delivered by experienced instructors. Our facilities are fully equipped with current industry instruction materials and students are given training materials to ease their learning.
In addition, our talent hunters are in constant touch with companies in order to supply skilled manpower from our pool of successful trainees.
MULTIPLE LEARNING OPPORTUNITIES
Classroom Training:
offers students the opportunity to attend one of our scheduled high-impact courses held across our ultra-morden facilities. . In-depth lessons and sectional quizzes in the theory and application of methods, ample opportunities for hands-on experience and valuable interaction with the instructors sets up the optimal environment for preparing students to confidently enter the work place and fulfill all the formal training recommended in international standards documents for qualification and certification of personnel.
On-line Training:
offers students and employers a significant benefit in savings of both time and travel expense. Web-based Training is a robust tool for anyone who needs the qualifying formal studies recommended by international industry standards but is perhaps too far away to attend a class at our facility, has scheduling constraints, or needs a handy way of taking a refresher course. Same quality of training and certification are obtained to give you "peace of mind".
Corporate Training:
On-site Training at your location offers you the opportunity to save significant travel expenses for the employees you wish to have trained and still fulfill all the formal training recommended in the industry for qualification and certification of personnel: Our corporate clients enjoy bespoke training structure that suits their unique demands.
FLEXIBLE PAYMENT PLAN
We allow installmental payments. But payments must be completed on or before the beginning of training.
It is more than training, we deliver peace of mind!
*See testimonies of some of our alumni*